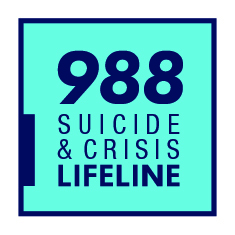 As of July 16th, 2022, the National Suicide Prevention Lifeline (NSPL), is transitioning to a three digit number, 988. 988 is intended to create an easy to remember and easier way to improve access to emotional support and suicide prevention services. As a member of the NSPL Network, Call2Talk will be answering calls going to this line. Moving to 988 does not mean our current local numbers will go away. You can still call us 24/7. We're here to listen.
DIAL 9-8-8
508-532-CALL (2255) • 413-505-5111
211 ext. 25
or text C2T to 741741
Call2Talk is a mental health, emotional support, and suicide prevention program run by Mass211. It operates 24/7 and provides confidential, compassionate listening to assist people – including those who may be despondent or considering suicide – during stressful times. Call2Talk is a National Suicide Prevention Lifeline Crisis Center and partners with Crisis Text Line to respond to people by text.
Besides its primary function as a helpline, Call2Talk also provides the following:
TeleCheck – a telephone check-in service for isolated older adults living at home in partnership with BayPath Elder Services and Advocates, Inc. Serving MetroWest.
 
LOSSteam MetroWest – LOSSteam MetroWest (Local Outreach to Suicide Survivors) is a volunteer immediate crisis support team. Its members are suicide loss survivors who are called to the scene of a suicide within the first 12/24 hours to provide support and local resources to the newly bereaved. LTMW officially launched in June 2017 through a partnership with the Ashland Police Department and with the support of Call2Talk and the MetroWest Regional Coalition for Suicide Prevention. (in Ashland, Holliston, Hopkinton, Hudson, Sherborn, Sudbury and Wayland) to learn more visit LOSSteamMetroWest.org
 
Community Education – informational presentations and best practice awareness trainings for community members including Question, Persuade, Refer (QPR) Training, Mental Health First Aid, SafeTalk, Applied Suicide Intervention Skills Training (ASIST), More Than Sad, and Talk Saves Lives.
HOW CAN YOU HELP CALL2TALK ANSWER EVERY CALL?