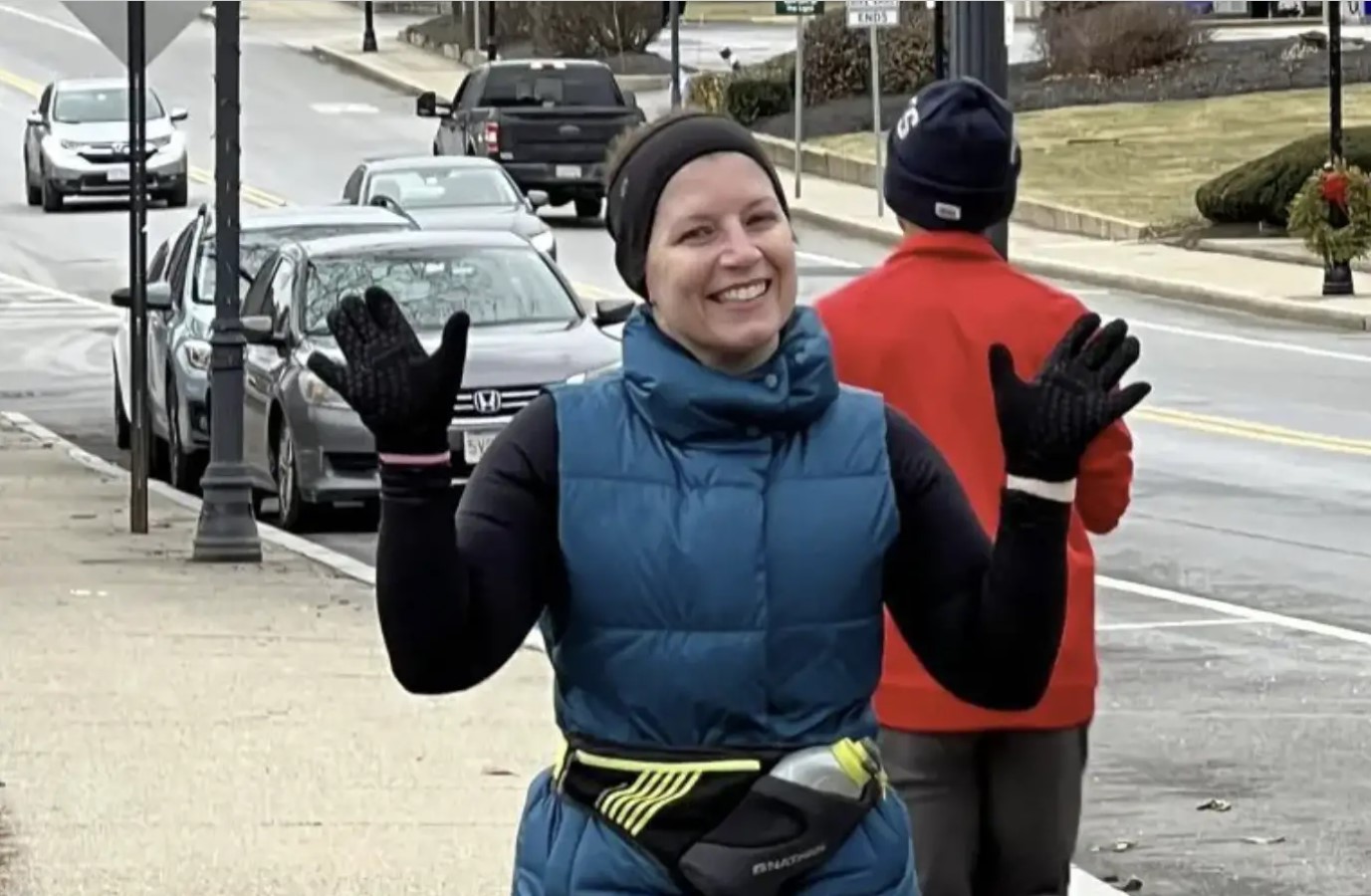 Framingham Source  |  by Susan Petroni
Tara Mahnk
Hometown: Peru, NY
Marathon Team: Team Framingham
Is this your first marathon? This will be my 2nd marathon
What is your personal best marathon time? 6:29 (I finished, right?!?!) 
Is this your first Boston Marathon? Yes!
Why run Boston? I moved to MetroWest 8 years ago, and the energy and excitement around the Boston Marathon was something I was always intrigued by, but I knew I'd never have a qualifying time. When I learned about the town lottery system my bucket list goal over the last 2 years was to *hopefully* get a lottery spot on Team Framingham as I want to complete this marathon before my 40th birthday!
Which charity are you raising money for? UnitedWay's Call2Talk program
Why did you pick that charity? Out of all the charities this year Call2Talk resonated with me the most as it so closely aligns with what I do day-to-day in my role at Alma, a tech startup in the mental health space that works to provide access to affordable mental health care. 
Link to your charity fundraising page: https://www.givengain.com/activist/388156/
How did you first get into running? Running is something I actually avoided like the plague when I was younger, but I always push myself to get out of my comfort zone. It started with running a 5k, then a 10k and then a 15k. Soon I was finding that I liked being outside and the freedom that came with changing the route I wanted to run on a given day.
Why do you like to run? I feel a sense of accomplishment after a run that I don't feel with other types of fitness activity. 
Tell SOURCE something about your training for the marathon: My main focus for this marathon is my running form… and giving myself grace when I need to take a breather to walk it out a bit. I learn something new with every training run.
What is your favorite cross-training activity? I love going to Orangetheory Fitness Natick. It's been a huge help in preparing me for training. My running form has definitely improved since the first marathon I ran.
Do you prefer to train alone or with others? Why? I like a mix. I like the freedom to run on my own and determine when I start my run. The group runs have been super motivating, though–seeing so many runners on the course keeps my energy up.
Are you an early morning runner or evening runner? All about the morning!
How do you stay motivated when you don't want to run? I think about all the progress I've made and that I don't want to lose out on improving.
Music or no music when running? If music, favorite song? No music–I like to be able to hear what's happening around me.
What is your favorite pre-running meal? English muffin with peanut butter, banana and liquid IV
What is your favorite post-run snack? Anything I can shove in my mouth
Tell SOURCE readers something about you that has nothing to do with running: With the exception of running, I actually avoid nature and the outdoors. Bugs, pollen, weather–not my jam. 
What shoes will you wear on Marathon day? I'm a fan of the Asics Noosa Tri 14–very light and cushion where I need it.
What is your goal for the 2023 Boston Marathon? I want to beat my previous marathon time
Will you wear anything personal or symbolic the day of the 2023 Boston Marathon? Why? I'll be rocking my Team Framingham shirt!